Tony Carter
pottery school
The studio is just behind The Kiln House at 10 Low Road, Debenham, Suffolk, IP14 6QU, more details of which can be found on the 'Contact' page.
Access to the studio is simply through the side gate of The Kiln House and you will be able to see the studio itself in front of you. Parking is easy, either just outside the studio on Low Road, or on the small pull in car park opposite.
My cocker spaniel, Jybo, is very much part of the pottery school scene. He is very friendly and likes to greet everyone and check up on what they are making! If a student is not happy with him about, he will take himself off for a doze and read the paper - he quite understands...
The school runs courses throughout the year; (see courses) there is a maximum 4 students per group, adults only.
The Pottery School is in a light, airy Studio in Low Road, Debenham, Suffolk. It was once part of the original pottery famous for making collectable teapots. The main buildings of my pottery have been demolished and I have recently had a new house built on the old site called The Kiln house. The studio was part re-built in 2015 and the pottery school opened in December of that year.
My pottery was started in 1978 by myself and my late wife Anita, becoming internationally recognised for its unusual collectable tea pots that I sold to all the major shops and department stores in the world including Harrods, Liberty, Selfridges in London, Macys, Saks and Bloomingdales in New York, and Takasmaya in Japan, to name just a few. I sold my pottery at the end of 2013 to Mr Brett Hawkesbee and it now trades under the name of Carters of Suffolk and has relocated to Stonham Barns, just four miles from Debenham.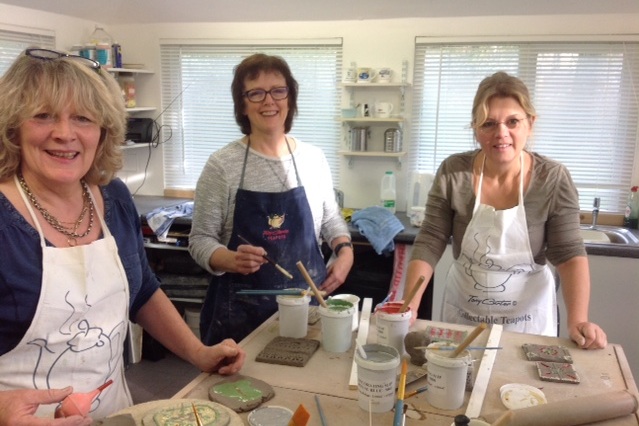 About Me...
Ipswich School of Art, Bath Academy of Art, BA Hons. Goldsmith College, University of London. ATD.
I have taught pottery and design for over 40 years, from school age to post graduate, and for most of my pottery career I ran my own pottery, Carters Ceramic Designs, established in 1978. My pottery was originally called Kiln Cottage Pottery, changing to Carters Ceramic Designs around 1980. All my teapots that were made in my pottery carry the 'Tony Carter Made in England' back stamp.
I have taught in both state schools and a major public school, but most of my teaching was as a part-time lecturer at Colchester School of Art, where I ran the foundation degree Professional Practice.
Today it gives me great pleasure to use my extensive experience to teach the wonderful world of pottery making to students in my pottery school.